Your wedding is a reflection of your personality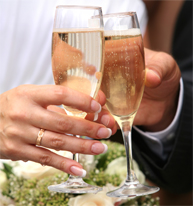 Your wedding should reflect you as a couple, show what you like, your style, your favourite colours, your way of life!
In our conversations we find out about your wishes and dreams.
In dialogue with our network partners we then design a concept that is tailored to you and carries your personal touch.

Which design you prefer, it is the central theme, it will run like a thread through the entire setting of your wedding: every detail reflects the uniqueness and style of your wedding, from the invitation to the decoration, from the cake to the wedding favours.

Whether baroque and opulent or simple and modern, from classical and traditional to flashy and colourful, there are no limits to your wishes.